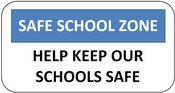 Help Stop Bullying
According to stopbullying.gov, bullying is unwanted, aggressive behavior among school aged children that involves a real or perceived power imbalance. The behavior is repeated, or has the potential to be repeated, over time. Both kids who are bullied and who bully others may have serious, lasting problems.
In order to be considered bullying, the behavior must be aggressive and include:
An Imbalance of Power: Kids who bully use their power—such as physical strength, access to embarrassing information, or popularity—to control or harm others. Power imbalances can change over time and in different situations, even if they involve the same people.

Repetition: Bullying behaviors happen more than once or have the potential to happen more than once.
Bullying includes actions such as making threats, spreading rumors, attacking someone physically or verbally, and excluding someone from a group on purpose.
---
Types of Bullying
There are three types of bullying:
Verbal bullying is saying or writing mean things.

Social bullying, sometimes referred to as relational bullying, involves hurting someone's reputation or relationships.

Physical bullying involves hurting a person's body or possessions.
---
Where and When Bullying Happens
Bullying can occur during or after school hours. While most reported bullying happens in the school building, a significant percentage also happens in places like on the playground or the bus. It can also happen travelling to or from school, in the youth's neighborhood, or on the Internet.
---
What Kids Can Do
Are you being bullied? Do you see bullying at your school? There are things you can do to keep yourself and the kids you know safe from bullying.
Treat Everyone with Respect
Nobody should be mean to others.
Stop and think before you say or do something that could hurt someone.

If you feel like being mean to someone, find something else to do. Play a game, watch TV, or talk to a friend.

Talk to an adult you trust. They can help you find ways to be nicer to others.

Keep in mind that everyone is different. Not better or worse. Just different.

If you think you have bullied someone in the past, apologize. Everyone feels better.
---
What to Do If You're Bullied
There are things you can do if you are being bullied:
Look at the kid bullying you and tell him or her to stop in a calm, clear voice. You can also try to laugh it off. This works best if joking is easy for you. It could catch the kid bullying you off guard.

If speaking up seems too hard or not safe, walk away and stay away. Don't fight back. Find an adult to stop the bullying on the spot.
There are things you can do to stay safe in the future, too.
Talk to an adult you trust. Don't keep your feelings inside. Telling someone can help you feel less alone. They can help you make a plan to stop the bullying.

Stay away from places where bullying happens.

Stay near adults and other kids. Most bullying happens when adults aren't around.
---
Protect Yourself from Cyberbullying
Bullying does not always happen in person. Cyberbullying is a type of bullying that happens online or through text messages or emails. There are things you can do to protect yourself.
Always think about what you post. You never know what someone will forward. Being kind to others online will help to keep you safe. Do not share anything that could hurt or embarrass anyone.

Keep your password a secret from other kids. Even kids that seem like friends could give your password away or use it in ways you don't want. Let your parents have your passwords.

Think about who sees what you post online. Complete strangers? Friends? Friends of friends? Privacy settings let you control who sees what.

Keep your parents in the loop. Tell them what you're doing online and who you're doing it with. Let them friend or follow you. Listen to what they have to say about what is and isn't okay to do. They care about you and want you to be safe.

Talk to an adult you trust about any messages you get or things you see online that make you sad or scared.
---
Stand Up for Others
When you see bullying, there are safe things you can do to make it stop.
Talk to a parent, teacher, or another adult you trust. Adults need to know when bad things happen so they can help.

Be kind to the kid being bullied. Show them that you care by trying to include them. Sit with them at lunch or on the bus, talk to them at school, or invite them to do something. Just hanging out with them will help them know they aren't alone.
Not saying anything could make it worse for everyone. The kid who is bullying will think it is ok to keep treating others that way.
---
For more information, please visit
or